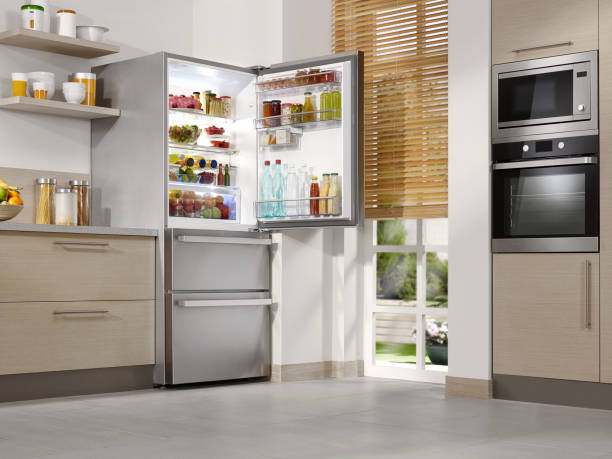 Below we will consider the main breakdowns of refrigerators by brand. Each brand has its own faults.
Troubleshooting the Samsung refrigerator
Korean brand refrigerators are quite reliable, which is reflected in our rating of the reliability of washing machines. Nevertheless, malfunctions of the refrigerator Samsung meet. For example, if the refrigerator switches on, works, gets a temperature, and then switches off and does not start the compressor anymore, this is a direct sign of a faulty defrost heating element at Samsung.
The refrigerator switches on, but the compressor does not start, saying about a malfunction of the control module. Taking into account the electronic control of almost all Korean refrigerators, the such breakdown is not rare for Samsung. Fortunately, repair of the module is feasible in 95% of cases. Such malfunction belongs to the average cost category.
The refrigerator doesn't turn off. A possible malfunction of the Samsung refrigerator in the case of its failure to turn off is a leak of refrigerant – freon. Usually, the leakage occurs on the external circuit and is easy to fix. Therefore, such a malfunction also belongs to the medium price range.
Electrolux Refrigerator Faults
Electrolux makes pretty good products that, like others, can let owners down with malfunctions. For example, a common breakdown of Electrolux is a faulty control module. The refrigerator does not turn on, the compressor does not start, and the refrigerating chamber does not cool, and all of these breakdowns can be related to the control module. Electrolux refrigerator electronic controls that do not respond well to our conditions can cause trouble. High-priced repairs.
Faulty refrigerator compartment sensor. When your refrigerator's electronics signal an error and stop starting the compressor, the problem is most likely in the refrigerator compartment sensor. Medium repair category.
Troubleshooting of Liebherr fridge
Liebherr refrigerator can "please" the owners with the malfunction of the freezer compartment sensor. The system starts beeping, the refrigerator ceases to perform its functions. The average price category of repair, in view of the expensive sensor.
Freon leaks in the foam part are also not uncommon, as well as micro leaks on the external circuit. If the problem on the external circuit is fixed fairly quickly, the internal, one is a complicated repair, which belongs to the high-price category, and also takes some time.
 It's time to call for professional appliance repair in San Diego county. San Diego Appliance Repair Service is here to help with professional and experienced appliance repairs.
Contact us
(619) 719-5005
[email protected]