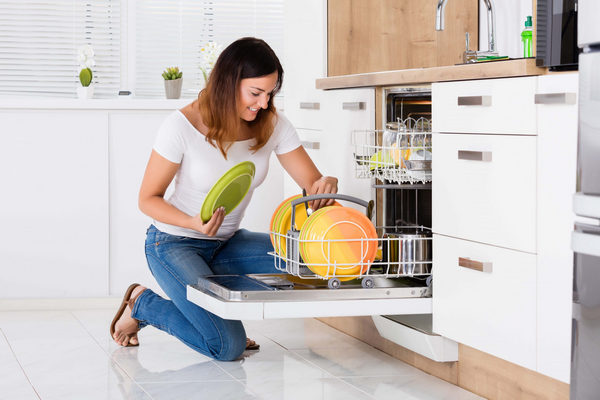 5 Main Reasons Why Your Dishwasher Tablet Not Dissolving
The dispensing device is broken.
The construction of the powder tray is quite complicated.  There are different compartments – for powders, gels, rinses and for tablets. The valve can be clogged and, in his case, it will not work and the tablet drug will not dissolve.
Poor quality of the product.
Production of briquettes for the washing machine involves the layering of some substances on others. To prevent substances from reacting earlier than it should be, each briquette has a separate package. If the packaging is damaged, the preparation begins to absorb moisture.  If there is high humidity in the place of storage. The preparation hardens and dissolving is difficult.
Non-compliance with washing machine requirements.
If you have an old dishwasher, and compressed briquettes are designed for modern machinery. The program of the old model is not able to ensure proper dissolving, so part of the briquette remains in the compartment.
Incorrect user actions.
The cause of the problem is an incorrect program. Read the instructions before using the tablet product.
Lack of pressure in water supply pipes.
Due to a clogged flow filter the device does not draw water properly. In this case there is no error on the display, washing continues in the absence of pressure. Because there is not enough water, the substances do not dissolve properly.
The tray is wet.
When loading the universal briquette, make sure that the cuvette is dry. Your hands should also be dry. Otherwise, the product will not fall out through the hole. If you are facing problems with your
dishwasher
or any other household appliances, call
San Diego Appliance Repair
at once. We are always ready to save you and your family from any discomfort and to provide you with the best dishwasher repair service all over San Diego County. We are the leading dishwasher repair service provider all over San Diego County. You won't find any better repair service provider. We stand out among others due to our unsurpassed quality of work, warranty, fair quotes, superior performance, swift service, friendly attitude and extensive experience in dealing with household appliances repair. We are available 24/7. You may book a repair visit online to fit your schedule and needs or over the phone. In case of emergency our technicians can come to your place in 15 minutes after your call. Our customers never regret working with us. We are proud to claim that we do have thousands of satisfied customers who will eagerly recommend
San Diego Appliance Repair
, the best household appliances service provider, to their friends and relatives. We believe in sharing our success with our staff and contributing to the community we live in. From the perfect services we provide to the careers we offer, we are about doing things that make a difference in the way you live.
Contact us.
(619) 719-5005
[email protected]
In order for your dishwasher to wash dishes properly without deteriorating prematurely, you have to use three commercial products at once – for washing (powder or gel), rinsing and softening water. This is inconvenient, troublesome and costly. That is why the company of three products of household chemicals are replaced by tablets, which contain all the necessary substances. The tablet consistently replaces all the means used individually. But the dissolution is not always complete. Let's consider why your dishwasher does not dissolve the tablet and how to deal with it.