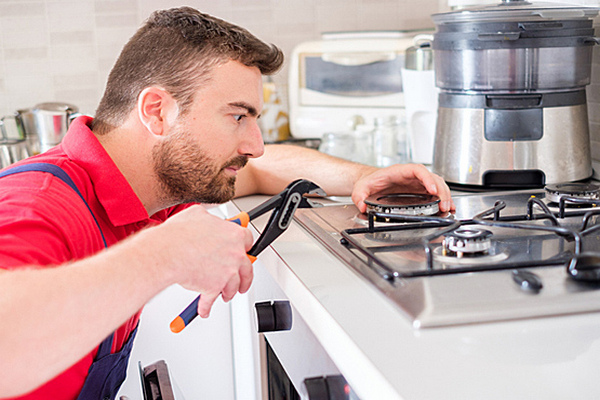 Peculiarities of gas stove maintenance
The unpleasant smell of gas is given for safety reasons, as it allows any user to detect a leak in time and, as a consequence, avoid poisoning or explosion. The moment the gas is ignited in the burner or oven, a small portion of the fuel may enter the room, creating the sensation of a leak. However, this situation is safe, and the odor quickly evaporates. If the unpleasant odor is constantly felt during cooking, you should think about the possibility of calling a call center for check-up.
3 Main Reasons Why Your Oven Smells Like Gas
– burner malfunction
When the smell of gas appeared as a result of an extinguished flame, you should immediately close the valve and ventilate the room. This situation is considered an emergency, so you must immediately wide open the windows. When the burner cools down, it is important to blow it thoroughly, clean it from food residues and grease. After thoroughly cleaning the burner, you should install it in place, ignite it and check its performance. If the cause of the malfunction is any defect, it is worth replacing the burner with a new one.
– breakage of the connection hose
The hoses used to connect the gas are sold in specialized outlets. When the cause of the leak was a crack in the hose, it is worth replacing it.  After all, the repair will provide a short-term effect and the unpleasant smell will quickly reappear.
– leak in the area of the shut-off valve
If a leak is found, you must immediately shut off the gas supply and call a service center. Upon completion of the installation, the connection is tightened until the valve is in the right position. At the first signs of malfunction, it is worth to
call
San Diego Appliance Repair Company unless you have the knowledge and experience of working with gas equipment. If you need
range repair
help, call us,
San Diego Appliance Repair
, and our experts will take this burden off your shoulders quickly and effectively, high quality is guaranteed. They are trained to work with all major lines of range models. They keep us with all new technologies and all new high-tech models releases not to let you down. We pride ourselves on having thousands of happy customers who are satisfied with our excellent service and eagerly recommend us, San Diego Appliance Repair, to their friends and relatives.
Contact us.
(619) 719-5005
[email protected]
Thanks to the stove it is easy to cook the most complex meal, but sometimes users notice a smell of gas during operation – the smell can be felt during the operation of the burners, the oven or after turning off the device. But what is its appearance associated with and what is the evidence of it?