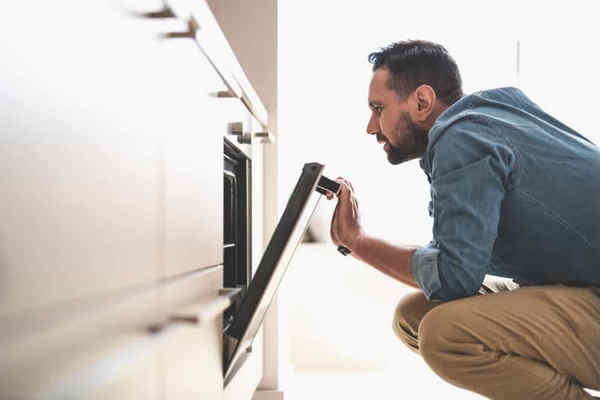 Bosch
,
Whirlpool
,
Frigidaire
and other brands heats poorly – further in this article we will tell you how to clarify the root cause of the breakdown, and what is better to do in such a situation. In most cases, poor heating or improper on/off of the burner is associated with faulty sensors, switches or heating element, but the reasons for this can be different.
 HEATER ELEMENT BURNED OUT
One of the most common causes of poorly warming oven is a burned out or damaged heating element: the upper or lower heating element. You can check them visually: there should be no dark spots, swellings, cracks and other mechanical damages on the serviceable heating element, after turning on the oven, the heating element is red-hot. For more accurate diagnostics it is necessary to check the heating element with a special device. A burned heating element will have to be replaced. By the way, in modern stoves, one burned heating element can block the power on the whole electric stove. If you've replaced the defective element and the oven still won't heat, you may have an electrical issue.
THE MODE SWITCH IS BROKEN
Another popular cause of oven malfunctioning is a faulty mode switch (toggle switch). The contact springs can become loose or the contacts themselves can burn. A faulty switch must be replaced.
POWER SWITCH BREAKAGE
The oven may also be underheating due to a faulty power switch. As with any other switch in the oven, the contact springs may become loose or the contacts themselves may burn. It is difficult to fix the switch, but it is better to replace it. Any breakdown should be diagnosed by a professional in time. If you are experiencing problems with your oven, it is not only inconvenient, but even frustrating. To make your life comfortable and enjoyable again, the first thing you need to do is to call us,
San Diego Oven Repair.
Don't let faulty appliances impact your family quality life.
Call us
and we will come to your rescue the very moment you need us.
Contact us.
(619) 719-5005
[email protected]
When the oven of an electric stove does not heat or heats badly, the reasons can be  different: among them are both simple, which you can fix yourself (problems with the socket or power cable), and complex, which can be repaired only by a qualified professional, such as a faulty control module or problems in the internal electrical wiring. What to do if the oven