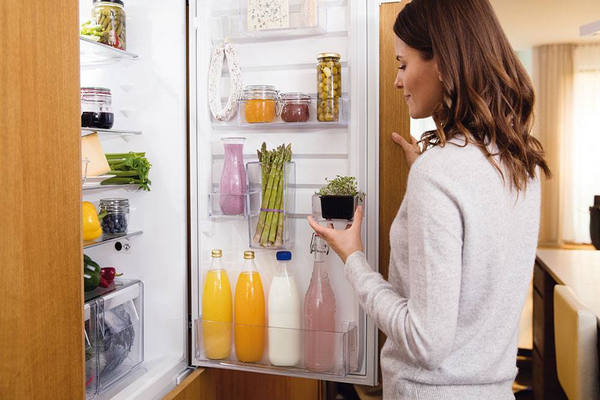 San Diego Appliance Repair Company experts recommend cleaning the fridge once a month – even if you have a self-defrosting machine – from the inside with either a solution of soap or water with vinegar. The high humidity inside the refrigerator is the perfect condition for bacteria and mold to spread. Water with baking soda added is also suitable because it softens the water and has alkaline properties to remove dirt.
For defrosting, you shouldn't have to wait for the ice to melt on its own after a few hours. Everything happens faster. Better than a hair dryer, which can be dangerous in combination with water, is to put a pot of boiling water in the freezer. Since it's usually plastic inside, we prefer to put it on a wooden board. And do not forget to close the refrigerator door.
When cleaning both the refrigerator and the freezer, all food should be removed. If we move them from one shelf to another, not only will we waste our time, but we risk contaminating the food with cleaning agents. Then wrap the frozen foods in newspaper and place them close together to slow down the defrosting process.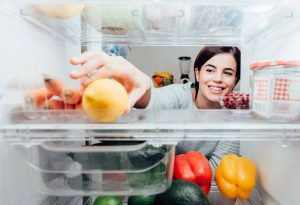 If you're still dealing with the smell after cleaning the fridge, it's a good idea to put a few slices of lemon inside or put a bowl or jar of vinegar or baking soda inside.
Companies offer various odor absorbers. Some are liquid, others have granules or a filter working on the principle of activated carbon.
Dairy products are the most susceptible to take away odors. This is why we never store them next to fish, for example, and always keep them sealed in their packaging.
We can also reduce fridge freezing and bacteria formation by not putting hot food in the fridge. This can not only disturb the temperature but also cause an increase in bacteria in food that is already in the fridge.
We can prevent bacteria from multiplying if the temperature in the fridge is below 40 F.
Fruit, salads and vegetables should be stored in the warmest part of the fridge, preferably in the trays at the bottom.
Always store raw and cooked food separately to reduce the risk of contamination. Place cooked food on the top shelf and raw food on the bottom shelf.
If your refrigerator is not working properly and you need help, 
call us, San Diego Appliance Repair
. 
We are the best option among other household appliance repair service
 providers in San Diego. Our dedicated refrigerator repair engineers are regularly trained to service all existing and new freestanding, integrated and built-in units from any manufacturer. They can repair any refrigerator brand, wherever you bought it. Refrigerators, freezers, ice-makers are our specialty for many years. We pride ourselves on being able to claim that we do have thousands of happy customers, satisfied with our quick and quality work. We make the process of repairing your refrigerator really easy. Our experienced and skilled technicians will provide you with 
the best refrigerator repair service in San Diego
 along with free maintenance advice if needed. 
Book your refrigerator repair either by calling us or on our website.
Contact us.
(619) 719-5005
[email protected]
The dream of many of us is to have a clean refrigerator. After all, that's where we store our food. So follow our 10 tips to get rid of mold quickly and easily, and never let that unpleasant smell get into your refrigerator again. There can be several reasons for an unpleasant smell from the refrigerator. Either we are storing foods that are too smelly, or something is spoiling inside. In the first case, sealing cheese, fish or vegetables in plastic boxes with lids helps. In the second case, spoiled foods need to be removed. But there are also cases where the refrigerator smells without any reason for it. For this, too, there is a solution.